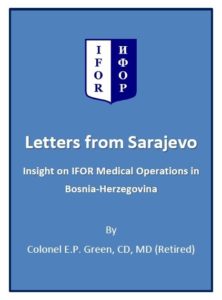 TITLE: Letters from Sarajevo
Author: Colonel Peter Green, CD, MD
Publisher:

---

Twenty years after servicing a six-month tour as IFOR Theatre Surgeon in Bosnia-Herzegovina, former FMC Command Surgeon, Colonel Peter Green has agreed to share some observations from his tour. Letters from Sarajevo examine the military medical facilities and resource in support of NATO operations in Bosnia-Herzegovina based on personal visits to all force medical installations during the period January – June 1996. The letters provide excellent insight on the challenges of delivering medical support in multi-national theatre of operations. Click here to learn more.