In remembrance of our fallen comrades. Lest we forget.
Canadian Military Medical Services Memorial
The Canadian Military Medical Services (CMMS) Memorial, originally unveiled in November 1984, was re-dedicated April 9 to all fallen health services members. The memorial is surrounded by a tall cluster of pine trees behind the Canadian Forces Health Services Training Centre at CFB Borden, Ontario. Newly and chronologically inscribed across its plaque exterior are the names of the 1394 CF health services personnel who have fallen in service to Canada since the Boer War, including the six frontline medical technicians who gave their lives in Afghanistan.
Read More
The memorial is truly a place of respect and honour for many, while it marks a location of reflection and solace for others. To this day, the Med Tech QL3 rebadging ceremony continues to take place at this very special and monumental CFHS location. It is where the new QL3 Med Tech graduates accept the responsibilities bestowed upon them, and officially take up their personal torch in respect and acknowledgement of the many CFHS personnel that have fallen and unfortunately, paid the ultimate sacrifice. After many, many months (for some even years) of Med Tech training this ceremony is considered a great honour; the beginning of their much awaited journey and even for some, an emotional realization and acceptance of their new found role as RCMS Med Techs.
There still remains many vacant places for additional commemorative bricks/plaques on the memorial. As such, on behalf of the CFHSTC  memorabilia committee, we request your assistance in passing on, throughout your respective areas of responsibilities, this message of opportunity. The purchased brick may underline the memory of someone special/ be in honour of someone's service with the Health Services / to honour the care the purchaser or someone they know have received / or for no particular reason at all.  The options are endless, and only left to the purchaser's imagination.  Donation can be made by cheque to "CFHSTC Commemorative Monument Fund"  P.O. Box 1000, Station Main, Borden, On, L0M 1C0
Colonel Darby Bergin, MD, MP, Monument
Glen Walter, Glengarry County, Ontario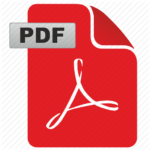 Col Darby Bergin was a graduate of McGill University School of Medicine and began his military service a regimental surgeon and then commanded infantry units being the first Commanding Officer of the 59th Stormont & Glengarry Battalion, perpetuated by the Stormont, Dundas & Glengarry Highlanders. He later became Canada's first Surgeon General and an advocate for the creation of an Army Medical Corps.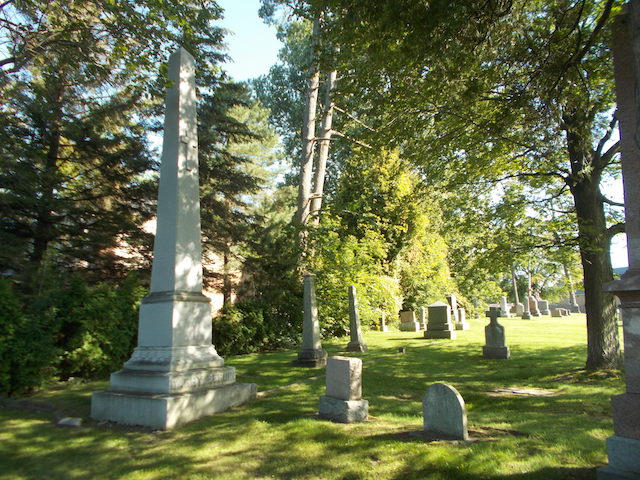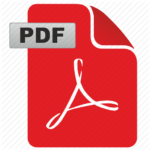 Georgina Pope (1862-1938) was the first Matron in the Canadian Army Medical Corps, a position she attained in 1908. She served as a military nurse in the Second Boer War, which earned her the Royal Red Cross Medal for meritorious and distinguished service in 1903. She was the first Canadian to receive this honour. Her WW1 service was in Canadian hospitals in France and the UK. She was 55 years old when she went overseas in 1917. Click here to learn more about Georgina Pope.
Colonel Elizabeth Smellie, CBE, RRC, RN, Historical Plaque
Waverly Park, Thunder Bay, Ontario
Upon the Outbreak of war in 1914, Elizabeth  Smellie volunteered to provide service overseas. While serving in England and France as a hospital matron, she was mentioned in dispatches in 1915. In 1917, she was awarded the Royal Red Cross by King George V at Buckingham Palace. At the end of the war, she was assistant to the Matron-in-Chief, Royal Canadian Army Medical Corps Nursing Services in Ottawa where she remained until 1920. During WWII, Smellie served as Matron-in-Chief, Royal Canadian Army Medical Corps Nursing Services. Click here to learn more about Elizabeth Smellie.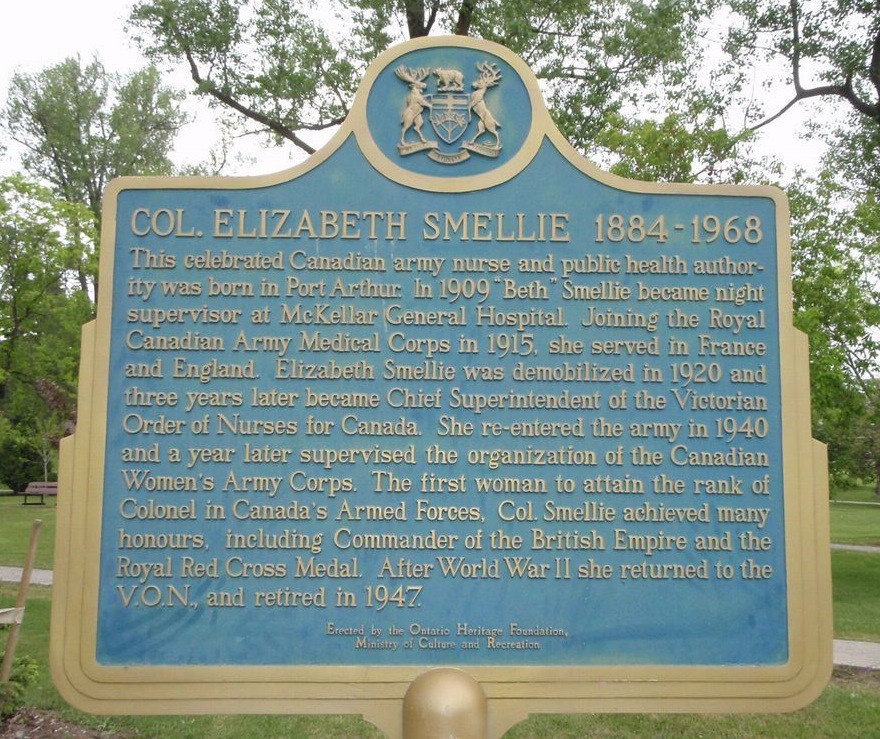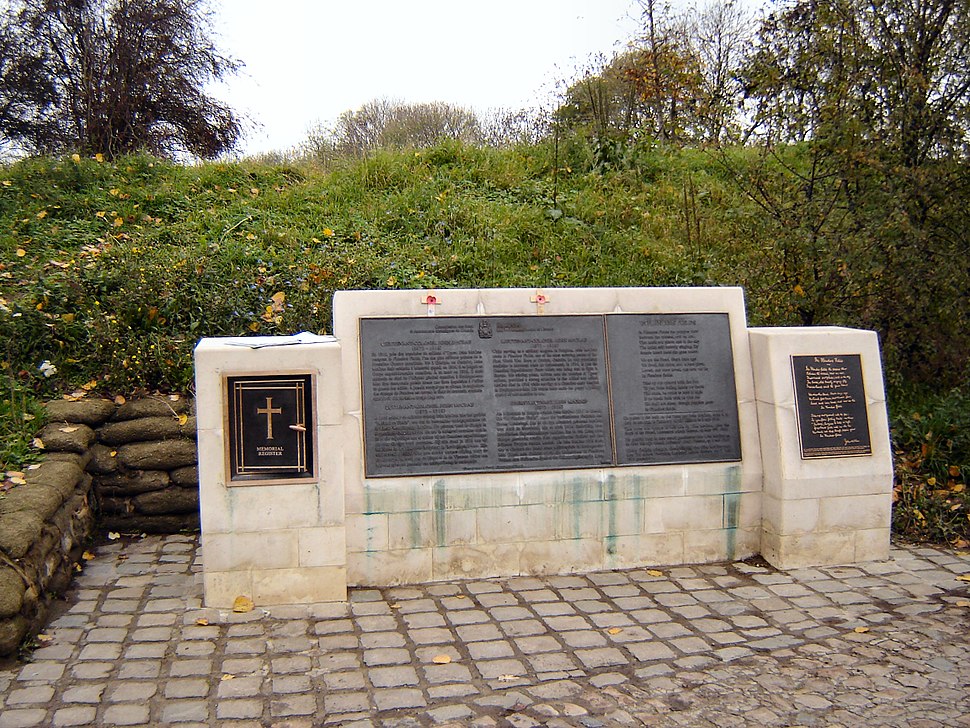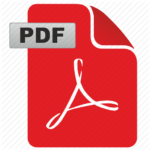 In June 1966 members of 1 Field Ambulance, Soest, Germany, dedicated a memorial plaque in St Georges Memorial Church, Ypres, Belgium, in memory of Lieutenant Colonel John McCrea, author of the poem In Flanders Fields and members of the Royal Canadian Army Medical Corps who paid the supreme sacrifice.
Saskatchewan War Memorial, Regina, Saskatchewan
A new (and last) statue has been unveiled at the Saskatchewan War Memorial. This statue of a war nurse has now a place beside that of a First World War Canadian soldier with both flanking the names of thousands and thousands of brave Canadian men and women who lost their lives during combat. The Statue was unveiled by LCol (Retired) Hallie Sloan, CM, CD, RN, RCAMC. Note: Saskatchewan War Memorial is located just west of the Saskatchewan Legislative Building, near Wascana Lake and the Albert Memorial Bridge.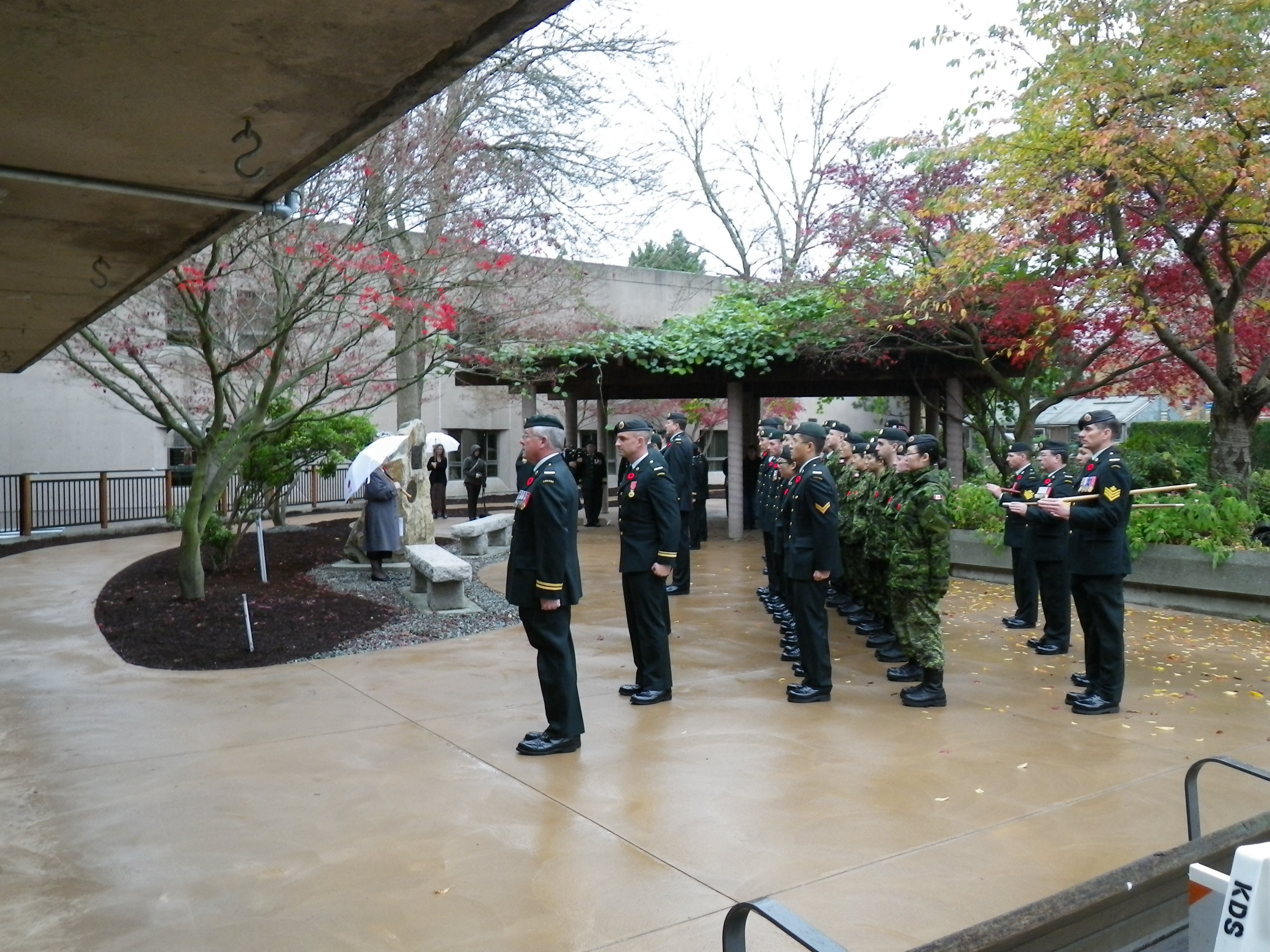 Monument to British Columbia Military Medical Services Personnel
Vancouver, British Columbia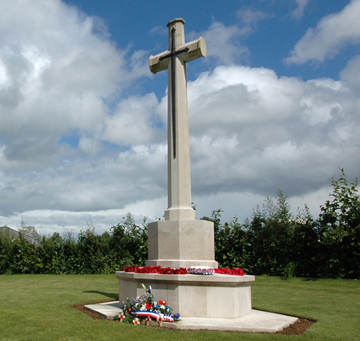 Royal Canadian Army Medical Corps Memorial
Juno Beach, Normandy, France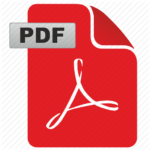 As a closure to the year that marked 100 years of military medical service in Canada, the Defence Medical Association (DMA) of Canada, accepted to sponsor a project proposed by Major (Ret'd) Denis Pilote, National Secretary of the Association.  The project was to have a suitable plaque as a testament to RCAMC members who died or were wounded in Normandy.  On October 15, 2005 the plaque mounted on a WWII Canadian tank named "BOLD" was unveiled. The tank is located on the section of Juno Beach assigned to Canadian troops on D-Day.