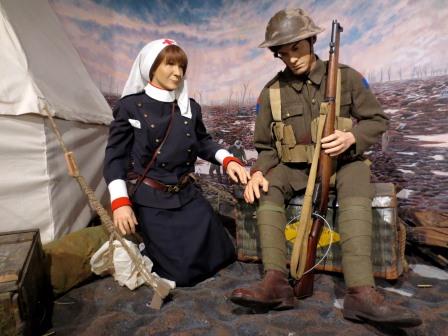 TITLE: Nursing Sisters, Canada
Author: Harold A. Skaarup
Publisher:

---

That at the beginning of the Great War of 1914-18 there were five Permanent Force nurses and 57 listed in reserves. By 1917, the Canadian Army Nursing Service included 2,030 nurses (1,886 overseas) with 203 on reserve. In total, 3,141 Canadian nurses volunteered their services. Because of their blue dresses and white veils they were nicknamed the "Bluebirds". Click here to learn more about Canada's Nursing Sisters
Photograph: Canadian Nursing Sister ministering to a soldier in the Great War (1914-1918), diorama the New Brunswick Military History Museum, CFB Gagetown, New Brunswick.